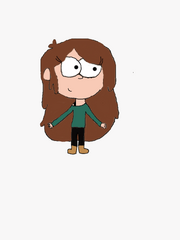 Lillianna Young
Name - Lillianna Young
From - Texas
Age- 13
Gender- Girl
Apperance- long curly caramel hair , blue eyes. Lili wears a sweater and black tights with tan uggs.
Personality- Shy at first but when you meet her shes outgoing,sweet, funny, kind, caring, and sometimes smart.
Family- Cammeron age 4,Meredith age 6, and her oldest brother Landon age 15, and of course her parents.
Story- Moving away from her home of Dallas, Texas to Gravity Falls, Oregon she notices things others don't seem to notice. Upon arriving to Gravity Falls she sees some strange things in the forest but no one will beilever her. Well that is until she meets Dipper Pines and her Sister Mabel. Dipper and her quickly become very close friends due to the fact of their love for mysterious and the happenings of Gravity Falls and other intrest. She is also good friends with Mabel due to both their randomness. But.. she has something that she wont tell anyone and also something she saw that she won't tell anyone about.
Ad blocker interference detected!
Wikia is a free-to-use site that makes money from advertising. We have a modified experience for viewers using ad blockers

Wikia is not accessible if you've made further modifications. Remove the custom ad blocker rule(s) and the page will load as expected.